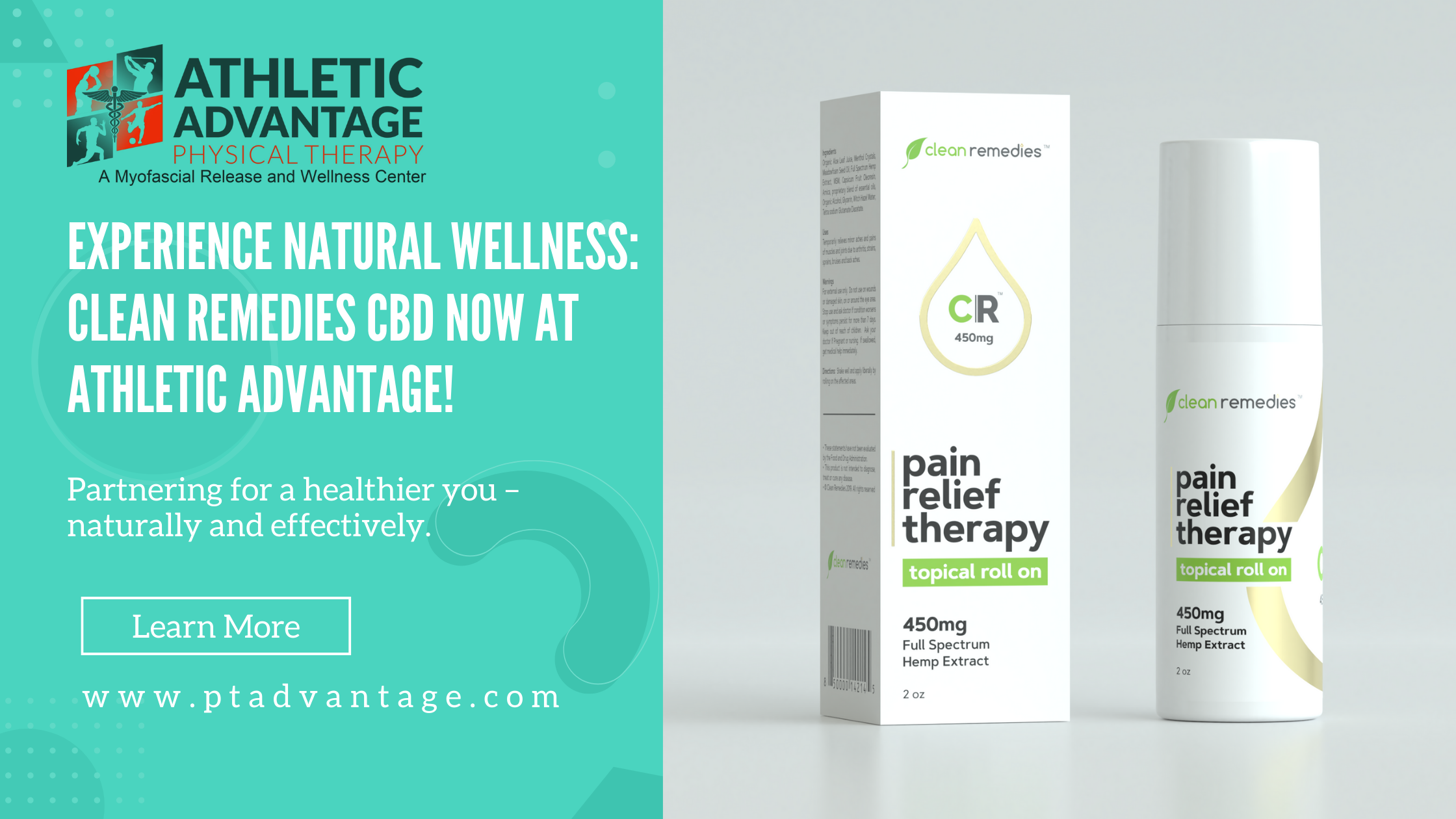 At Athletic Advantage Physical Therapy and Wellness Center, our mission has always been to provide innovative, holistic care that empowers you to live your healthiest life. As a hub for wellness in Lewis Center, Ohio, we've sought out the most effective, innovative therapies that align with our commitment to quality and efficacy.
Today, we're thrilled to announce our latest partnership with Clean Remedies, a leading producer of USDA Certified Organic CBD products, proudly based right here in Avon, Ohio. The synergy between our center's offerings — myofascial release, Berger, TPI golf performance, sound therapy, and yoga — and Clean Remedies' organic CBD products will further equip our clients with an impressive arsenal of tools for wellness and recovery.
Why Clean Remedies?
Clean Remedies stands out in a crowded CBD market. Their commitment to high-quality, organic ingredients, rigorous testing, and cruelty-free practices aligns seamlessly with our own commitment to excellence and holistic health.
Local, Uncompromising Standards for Quality and Purity
Being an Ohio-based company, Clean Remedies' dedication to purity, safety, and quality resonates with us at Athletic Advantage. Their CBD products are USDA Certified Organic, ensuring they are free from harmful residual solvents, microbial, heavy metals, and pesticides. Hemp used in their products is sun-grown in Oregon by farm bill-compliant farmers. Their products carry the official USDA Certified Organic and Kosher seals, signifying a commitment to purity and quality.
Commitment to Customer Happiness
At Athletic Advantage, we understand the importance of trust, especially when it comes to your health and wellness. We share Clean Remedies' 100% happiness guarantee, a testament to their belief in their products. If a client doesn't feel better, they can simply contact Clean Remedies for a return or exchange.
Cruelty-Free and Made in the USA
Clean Remedies prides itself on never testing on animals, and they hold the prestigious leaping Bunny certification, the gold standard in cruelty-free certifications. Their products are not only cruelty-free but also made from USA-grown hemp, supporting local farmers and ensuring quality and sustainability.
A Trusted, Woman-Owned & Family-Operated Business
Just like us, Clean Remedies is a family-operated business, led by founder and CEO Meredith. Their passion for clean, effective remedies shines through in every product they offer.
Joining the Clean Remedies Family
As an affiliate marketer of Clean Remedies, we're thrilled to introduce our clients to their product lineup. Their subscription program offers 30% off the first order and 25% off every subsequent order, along with free luxury samples. Plus, it's risk-free, with the ability to cancel anytime.
Beyond these advantages, Clean Remedies offers exceptional support. They provide free one-on-one support from expert educators, offering personalized advice about CBD wellness goals and product use. All this with no sales pitches, upselling, or bots, just real, thoughtful support from the Clean Remedies team.
Incorporating CBD Into Your Wellness Routine
As a compound derived from the hemp plant, CBD has piqued interest for its potential benefits without mind-altering effects. Clean Remedies ensures that their products are third-party lab-tested, ensuring the highest quality and safety.
Our partnership with Clean Remedies underscores our commitment to holistic wellness and providing our clients with access to high-quality, trusted products. We encourage our clients to explore the potential benefits of CBD and consider incorporating these organic, responsibly sourced products into their wellness routines.
We're excited to see how this partnership with Clean Remedies will further enhance our clients' path to wellness. As fellow Ohioans, we're proud to support local businesses like Clean Remedies that share our values of quality, integrity, and innovation.
Supporting Local, Sustainable Practices
By partnering with Clean Remedies, we're not just supporting local businesses. We're also making a stand for sustainable farming and manufacturing practices. Clean Remedies supports local farmers by sourcing hemp from USDA Certified Organic farms in Oregon, ensuring both quality and sustainability in their products.
Navigating the CBD Landscape
Understanding and navigating the world of CBD can be overwhelming, especially with the myriad of products available on the market. That's why Clean Remedies' commitment to transparency and education is so valuable. Their expert educators are available to provide one-on-one support, answering questions and providing guidance to help you make informed decisions about incorporating CBD into your wellness routine.
The Future of Wellness
As we continue to explore and expand our holistic health offerings, we look forward to sharing the benefits of Clean Remedies' premium CBD products with our clients. We believe this partnership brings together the best of both worlds – our expertise in physical therapy and wellness, and Clean Remedies' commitment to quality, organic CBD products.
Our collaboration with Clean Remedies, a trusted local Ohio brand, enhances our ongoing commitment to provide you with a comprehensive approach to wellness. We invite you to visit Athletic Advantage Physical Therapy and Wellness Center in Lewis Center to experience the Clean Remedies difference today.
Please consult with your physician before beginning any new wellness routine or supplement, including CBD. This information is not intended to replace medical advice or to treat or diagnose any medical condition.