Myofascial release in lewis center, oh
What Is Myofascial Release?
Myofascial Release Therapy is the therapeutic treatment of the non-elastic tissue that surrounds and integrates all tissues of the body. The myofascial tissue commonly thickens and becomes restricted from injury, inflammation or disease. The myofascial tissue for example, is similar to the jell-o in a jell-o salad. The jell-o represents the myofascial tissue and all the other ingredients resemble various bodily components such as organs, muscle, tendon, blood vessels and nerve structures. The fascial system can exert approximately 2000 pounds per square inch of compressive force on pain sensitive soft tissue structures. Myofascial Release is an effective hands-on approach to treat the myofascial system to release these soft tissue adhesions, to eliminate pain and restore motion, circulation and tissue elasticity.
The Benefits Of Myofascial Release Therapy
Pain is often inappropriately attributed to defects in the joints and bones of the body while the tissues surrounding them are overlooked. In fact, what commonly causes pain, stiffness, and dysfunction is the myofascial (muscles and fascia) system surrounding these structures. When this system has been overworked or traumatized the bodies protective mechanism kicks in and tightens up to prevent further damage. This is beneficial in the short term but if system is in defense mode for too long it causes issues. It is this complex system that is responsible for the biomechanical coordination of movement of the bones and joints and why when impaired, causes them pain. If you suffer from any of the problems below myofascial dysfunction may be responsible and Athletic Advantage has 30+ years of experience healing it.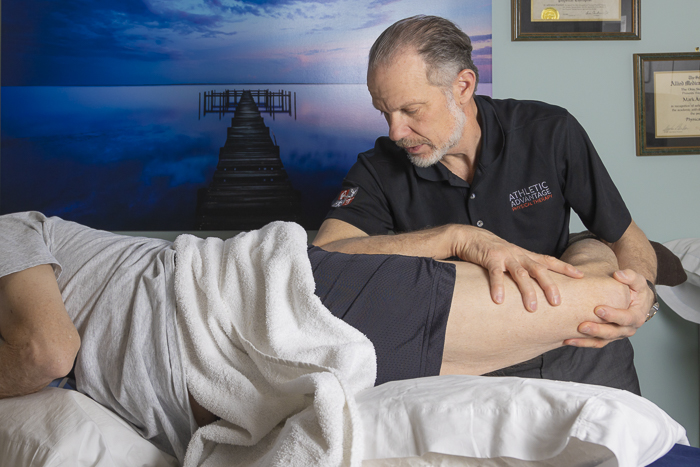 When visiting Athletic Advantage, you can always have full confidence that you are visiting one of the best Myofascial Release centers in Columbus. Mark Read and his entire staff have spent years practicing Myofascial Release therapy, and are certified in both of John F. Barne's Myofascial Release courses. The first course of John F. Barnes' Myofascial Release Approach is learning and understanding the principles of MFR. Myofascial Release II builds on the principles of MFR I. This advanced course introduces areas that target commonly restricted areas as related to posture, headaches, and the cervical spine. These certifications, along with the vast experience of our staff, mean that you are always receiving the best Myofascial Release therapy when you visit our practice.
Myofascial Release Therapy Techniques:
If you still have questions about Myofascial Release, one of our treatment techniques, or how Myofascial Release Therapy can help you get back to doing what you love, please feel free to reach out to us through our contact page. We understand that every patient is different, and we are willing to go the extra mile to prove why we're one of the best Myofascial Release centers in Lewis Center, OH.